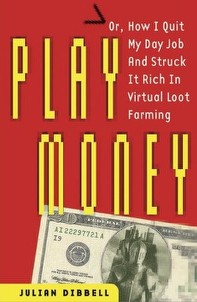 This Thursday, there is a great lecture
by Julian Dibbell, a writer of many things, but especially known for his investigative and poetic writing on techno-culture. Titles of well known texts by Dibbell include "
A Rape in Cyberspace
" and "
The Life of the Chinese Gold Farmer
" - both provide an intense view of the material reality of virtual social spaces. His most recent book "Play Money: Or How I Quit My Day Job and Struck it Rich in Virtual Loot Farming"
dissects the history of computers and games and tackles a number of issues legal, ethical and esoteric, including the IRS perspective on profits from dreamed-up merchandise, the difference or lack thereof between 'real and 'virtual' currency, and the knotty question behind all the time, energy and cash spent on so much mouse-clicking. (Publishers Weekly)
The lecture will be at 5:30PM in the Siebel Center Auditorium.